BOX OF 60 ANTI-FOG MICROFIBRE CLOTH
For effective and durable protection of lenses, visors and other optical surfaces against fogging.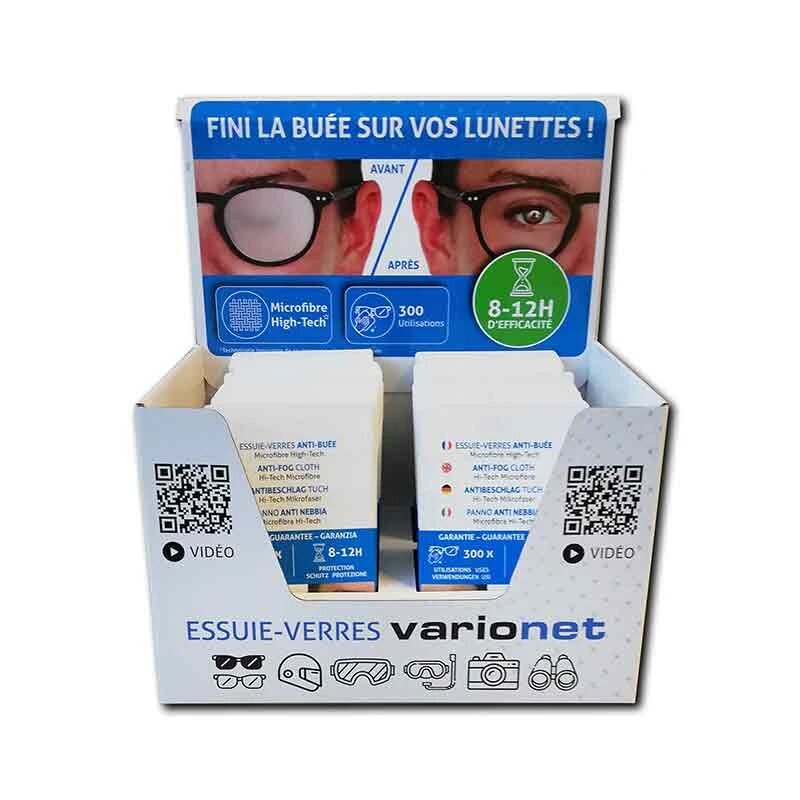 FED UP WITH FOGGED-UP GLASSES?
Varionet has solved the discomfort caused by fog on your eyeglasses, sunglasses, visors, googles etc… by developing a microfiber cloth saturated with an innovative hydrophilic coating solution.
The Varionet anti-fogging microfibre cloth is ideal whatever the circumstances, whether you are out and about, hard at work or enjoying some sports.
Quick and easy to use, the Varionet anti-fogging cloth is very effective as it protects for 8-12 hours with each application and durable as it is reusable up to 300 times.
And its price makes it a very economical solution
PFOA free, the Varionet anti-fogging microfibre cloth is in compliance with the strict requirements of the European REACH regulation.

– Start by cleaning and drying the surface to be treated
– Then apply the Varionet microfiber cloth on the optical surface
– DO NOT WASH OR HUMIDIFY THE MICROFIBRE CLOTH

– The Varionet microfibre cloth should always be stored in its original zipper pouch in order to keep its hydrophilic properties
– Efficacy : 8 h – 12 h per use
– Box of 60 anti-fogging microfiber cloth 15×18 cm
fed up with fogged-up glasses ? Contact us :